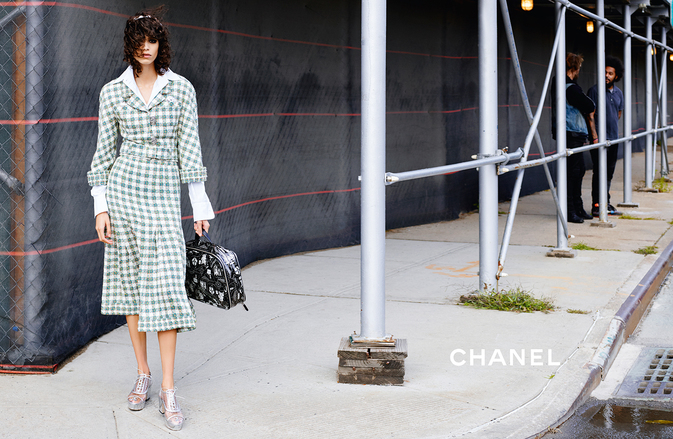 For the CHANEL Spring-Summer 2016 Ready-to-Wear and Accessories campaign, entitled
City Western, Karl Lagerfeld stages Lineisy Montero and Mica Arganaraz in an urban
adventure, south of Brooklyn in New York. In streets bathed with light, the designer reveals
his idea of travelling attire: an ultra-feminine and modern look that combines comfort and
elegance with chic, functional accessories, ideal for globetrotting. "We travel more and more.
So why shouldn't there be Chanel luggage?" declares the designer.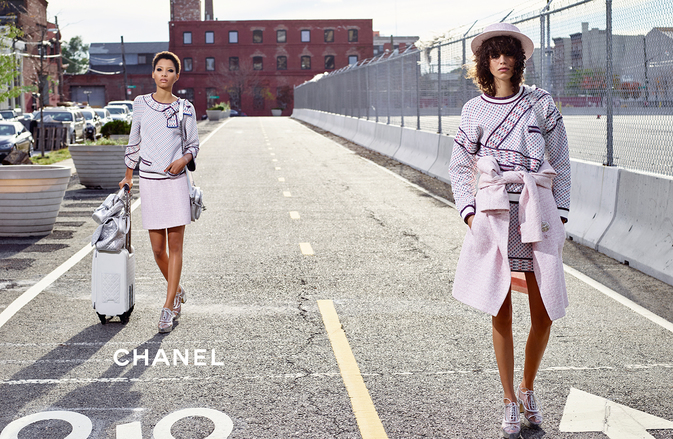 Pastel tones melt into lightweight tweeds, "carlingue*"effect embroidery is mixed with
leather and graphic weaves while multi-colour prints electrify cottons, cashmere and silk.
The cuts are fluid and the volumes ethereal. The skirts, long and flared or with flat pleats,
are calf-length and trousers are supple and extra-wide. The iconic CHANEL suit becomes the
"absolute" suit: "I took the pockets, the buttons and the braid away from the jacket,"
explains Karl Lagerfeld. Worn mismatching, the jackets warm a blouse and a dress in a print
that evokes departure boards, while day-time mini-skirts are coupled with embroidered
evening tops. Knitwear is worn in accumulation: knotted around the waist, sweaters in
cashmere or cotton complete the casual look of these chic travellers. A new braid –
photographed, printed, and covered with silicon – embellishes the jackets and short coats in
tweed.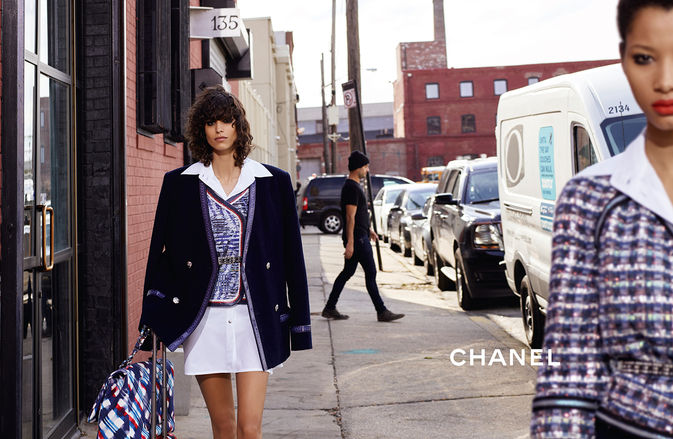 These energetic silhouettes stride through the streets of the Red Hook neighbourhood
wearing platform sandals or open-toe booties in silver leather and transparent plastic. Over
their shoulders they carry the "absolute" bag and in their hands they clutch the new CHANEL
cabin case, the "Coco Case" in diamond or chevron quilted leather, in tweed or in printed
canvas, and which are layered with weekend bags, such as the XXL version of the 11.12
handbag.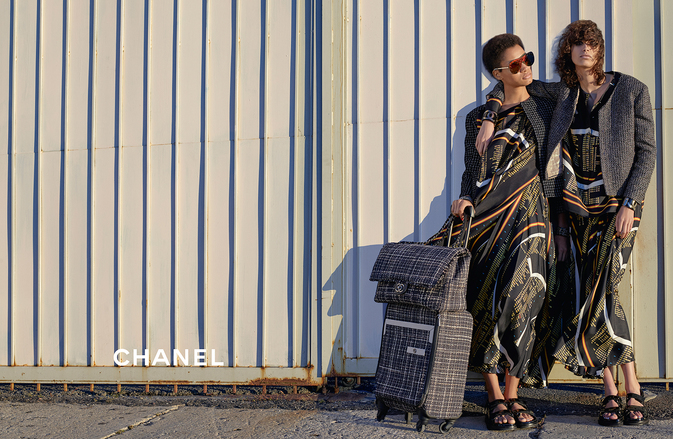 A desire for travelling and new horizons hovers over this campaign, to be discovered in
January 2016.
* fuselage