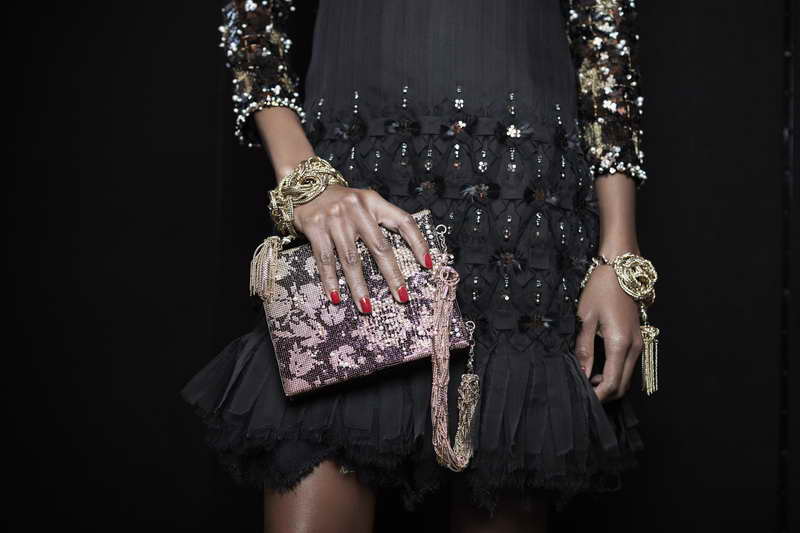 For the 2016/17 Métiers d'art collection, entitled PARIS COSMOPOLITE, Karl Lagerfeld plunged into the universe of the Ritz Paris, this palace hotel with its unique atmosphere in the heart of the capital, like an epicentre of the world. The designer's eye picked up the smallest of details in the legendary venue which he transcribed into this collection using them as elegant and mischievous inspiration, always chic like the hotel's regular or passing clientele. The accessories are thus dressed in colours and motifs reminiscent of the upholstery in a cosy salon and the gilding in the bedrooms and suites… Blues, reds, burgundies, orange, pink and metallic gold, silver and bronze all make up this warm palette. Materials include the fetish tweeds and leathers of CHANEL along with allusions to the interior textiles found at the Ritz Paris such as velvet, this noble fabric designed to resist the effects of time.
CHANEL's GABRIELLE bag comes swathed in metallic silver, gold or bronze aged-calfskin. Playful, it dresses up in tricolour suede calfskin. Luxurious, it also comes in precious python or alligator skins. Karl Lagerfeld has furthermore imagined it as an extension of the silhouettes in the collection: in tweeds embroidered by the House of Lesage and MONTEX, matching the coats and the suits from the collection. In all of its versions, CHANEL's GABRIELLE bag allows for different ways of wearing it, like over the shoulder, across the body, or both at once, the chain passing over one shoulder, then diagonally over the other, just like a piece of jewellery.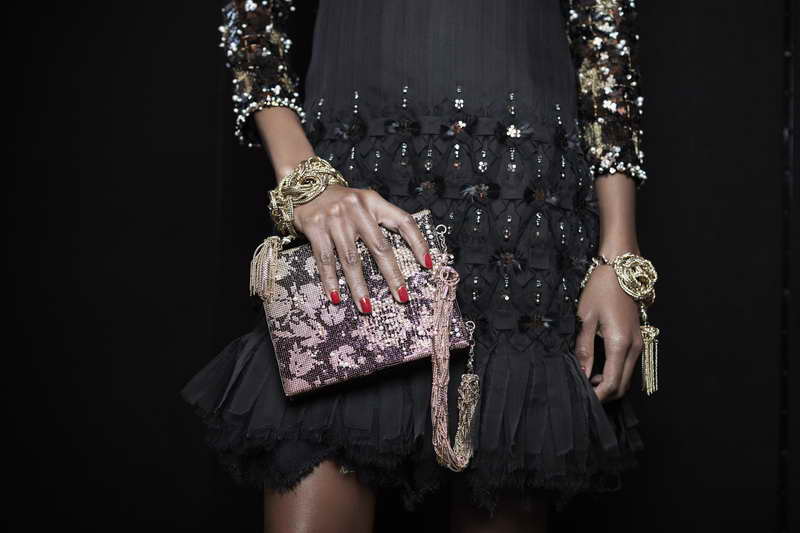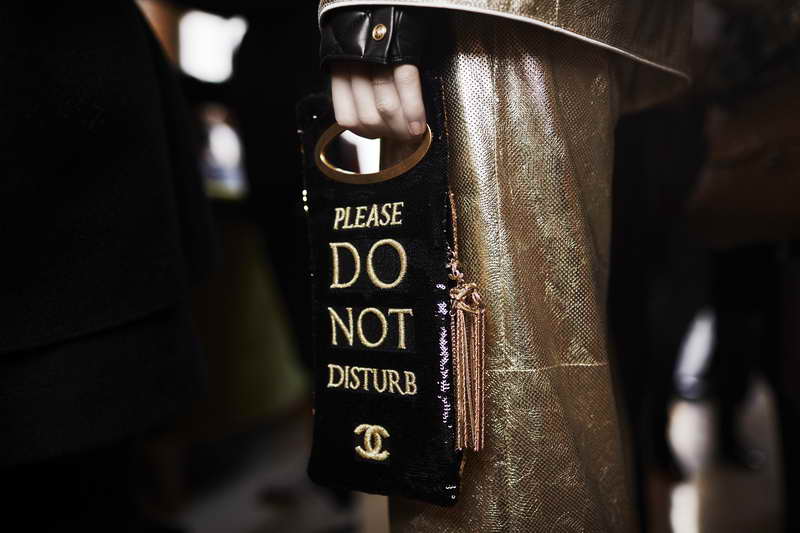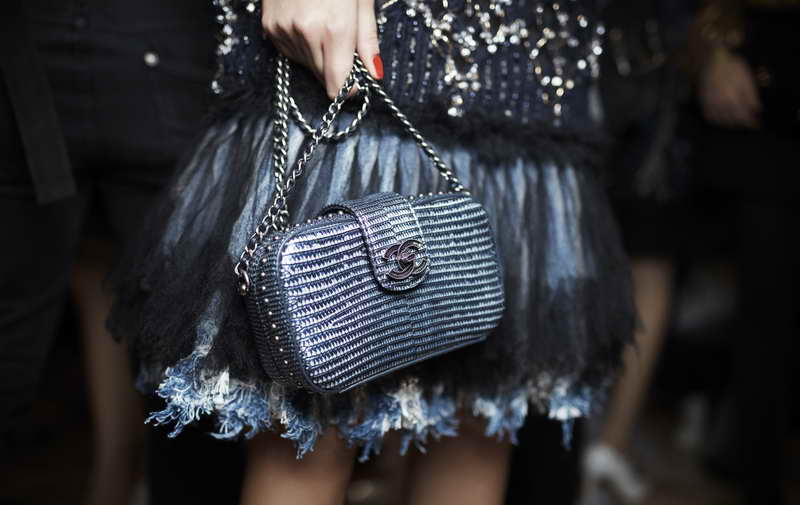 Taken from the Ritz Paris fabric scheme, velvet comes as multi-coloured camellias worked in relief on the flaps of burgundy or teal bags. We also find motifs resembling the rugs and the deep-pile carpets on a bucket bag and on a little bag to be worn around the waist. Equally the iconic 2.55 comes in velvet or leather embroidered with ribbons in velvet, grosgrain and satin. Alluding to the cosmopolitan clients of the hotel, the Coco Case trolley reappears this time in a quilted velvet. A maxi clutch in tweed evokes the shape of the cushions in the Ritz Paris while its fringes recall the trimmings of the sofas.
Every Métiers d'art collection is an opportunity to re-imagine such unexpected objects as evening bags. Precious and bursting with humour, they give free rein to the imagination of Karl Lagerfeld. A minaudière inspired by the signs hung on the door handles of hotel rooms is embroidered with sequins saying "Please do not disturb" or "Please dare to disturb" and embellished with an elegant pompom. Finally another minaudière makes reference to the Coco Chanel suite in the Ritz Paris paying tribute to Gabrielle Chanel who lived in this hotel for a part of her life.
The bags in the PARIS COSMOPOLITE 2016/17 Métiers d'art collection will be available in boutiques from June 2017.