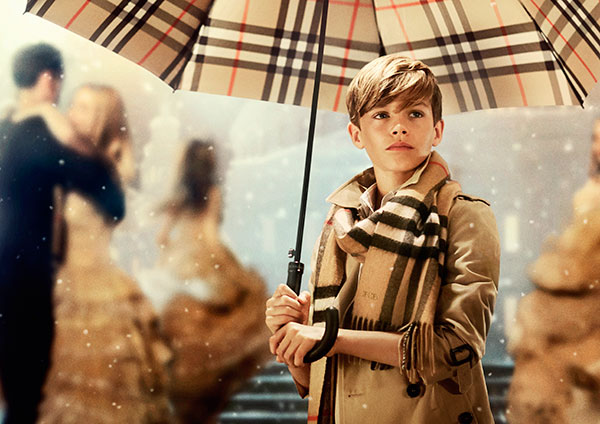 Last Monday British luxury brand Burberry celebrated the launch of its first global festive campaign, with a screening of its 'From London with Love' film at the Burberry global flagship store, 121 Regent Street, in the heart of London.
Directed by Burberry Chief Creative and Chief Executive Officer Christopher Bailey, and starring Romeo Beckham in a specially created role at the heart of the story, the short film takes audiences on a magical gifting journey through the Burberry worlds of Britishness, heritage, music and weather.
Set against a theatrical London backdrop, the film comes to life with 50 dancers who give a performance inspired by the golden age of cinematic musicals. The story is of a boy delivering the gift of love to a young couple, played by new British models and dancers Hannah Dodds and Anders Hayward, who take him on a journey of romance and festive enchantment through the streets of London. The film celebrates gifting as a powerful way of connecting people.
The premiere was hosted by Christopher Bailey in the auditorium of Burberry's global flagship 121 Regent Street, a space that Christopher designed for entertainment and interaction. The flagship is situated in a building that housed one of the first cinemas to entertain Londoners, and whose facade still celebrates the original cinema ticket stalls today.
The full range of Burberry festive gifts are now available in store and on Burberry.com, offering the brand's most personalised collection and customer service to date. This includes the iconic pieces which are celebrated in the campaign – the Heritage trench coat, the cashmere scarf, men's tailoring, women's eveningwear, and the new Burberry Beauty make-up look created by Burberry Make-up Artistic Consultant Wendy Rowe.